Daycare Ankkalampi in Punavuori, Helsinki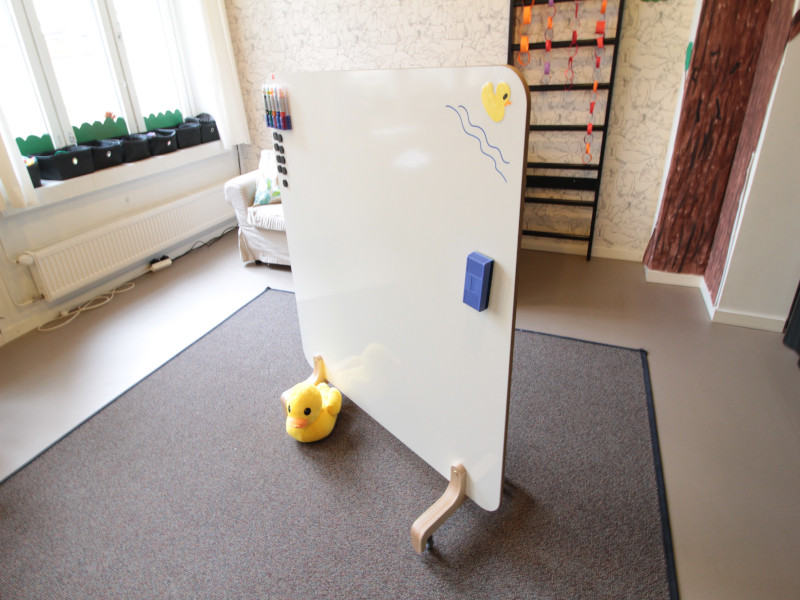 Experiences of the Ankkalampi Daycare in Helsinki's Punavuori with WriteWall Mobile
WriteWall Mobile is a new two-sided and portable writing board that has proven to be an excellent addition to early childhood education at the Ankkalampi daycare in Helsinki's Punavuori district. The whiteboard provides teachers and children with versatile interactive learning experiences.

At Ankkalampi, WriteWall Mobile inspires children to learn. Children participate in teaching more actively when the learning situation is fun and visually interesting. This helps children develop a positive attitude toward learning and fosters their desire to learn.
Customizable
WriteWall Mobile can be customized for different uses. The height of the writing board can be chosen according to one's needs. Ankkalampi's 1080 mm high and wide board is a suitable height for an adult sitting and for children standing. Based on feedback, horizontal lines, music staves, or grids can be added to the two-sided writing board as needed.
Eco-friendliness
Eco-friendliness is a key value at Ankkalampi. Daycares set an example for children in promoting sustainable development. Whiteboards are an excellent way to reduce paper waste. Children can draw and write directly on the board, reducing the need to use paper for learning purposes.